Information regarding this upcoming season of volleyball can be found in the documents section of the website in the volleyball 23/24 folder!

Information regarding $10 physicals from Wheeling Hospital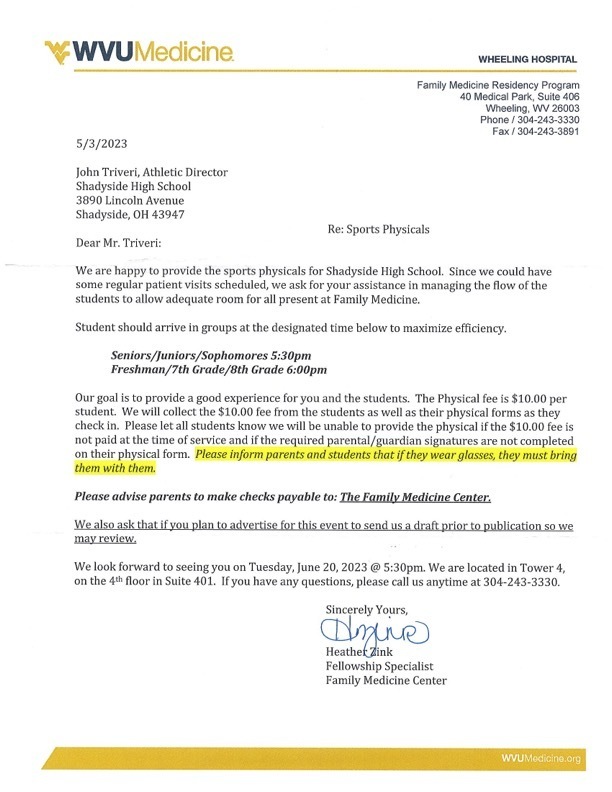 Baseline Impact Testing will be conducted on Wednesday June 14 in the high school. This is available for any student athlete grades 7-12 who will be participating in athletics next school year. This is not mandatory but is recommended in order to better diagnosis and recover from a possible concussion. Students interested should report in the following manner: Grades 11-12 report at 11:00 Grades 9-10 report at 12:00 Grades 7-8 report at 1:00

Softball Sectional Ticket Information: Hiland @ Shadyside Tuesday May 9, 5:00 All tickets MUST be purchased on the OHSAA website: *Just go to the website, click on TICKETS. *Click on SOFTBALL. *Select Division IV, Region 15, East 1. Purchase your tickets there. They will be available about 2 or 3 days before game. ***There will be no other way to enter the game. No money exchange will take place, just need to scan your ticket or your phone. Contact Mr. Triveri for any questions.

Here's the information for the parent spring sports meeting this Sunday! Join Zoom Meeting
https://zoom.us/j/97574294493?pwd=SjZ0aUtnejR1aXNBYUdURHFTMmpYQT09
Meeting ID: 975 7429 4493 Passcode: 889024 One tap mobile +13126266799,,97574294493# US (Chicago) +16469313860,,97574294493# US Dial by your location +1 312 626 6799 US (Chicago) +1 646 931 3860 US +1 929 205 6099 US (New York) +1 301 715 8592 US (Washington DC) +1 305 224 1968 US +1 309 205 3325 US +1 564 217 2000 US +1 669 444 9171 US +1 669 900 6833 US (San Jose) +1 689 278 1000 US +1 719 359 4580 US +1 253 205 0468 US +1 253 215 8782 US (Tacoma) +1 346 248 7799 US (Houston) +1 360 209 5623 US +1 386 347 5053 US +1 507 473 4847 US Meeting ID: 975 7429 4493 Find your local number:
https://zoom.us/u/aBI4bgWaB

Files for the Cardiac arrest testing can be found under the Document section for the high school here on the website!

Shadyside High School will be offering FREE CARDIAC TESTING to all students who are interested. Parents, the two links below will explain everything you need to know. This will take place in Shadyside High School on Feb 27 and Feb 28. The testing is strictly voluntary and is open to all students age 12 and up. Please check out the two links. It is important that you complete everything that is required in a timely manner. For those families that experienced Covid in the recent past, this may be a good indicator if there are any lasting effects on the heart. For any general questions, please contact Athletic Director, John Triveri. Thank you !

​For any new coach, or any existing coach, that need to get certified ,a walkthrough of how to complete all of the requirements has been posted in the documents section of the website under HIGH SCHOOL. If you run into any problems at all, feel free to contact Coach Campbell on his cell phone, or by email at
Jeff.campbell@omeresa.net

Winter Sports Parent Meeting There will be a winter sports parent meeting on Sunday Oct 16 at 7:00 pm. This will be a ZOOM call and the link is on the school's website, shadysideschools.com. This will be a question and answer format for parents to ask of our winter (Varsity) coaches who will all be in attendance on the call. If any parents have any questions for our coaches or myself, please visit the school's website and click on the link. Thank you John Triveri Athletic Director Shadyside High School _____________________________________________________________________________________ John Triveri is inviting you to a scheduled Zoom meeting. Topic: Winter Sports Parent Meeting Time: Oct 16, 2022 07:00 PM Eastern Time (US and Canada) Join Zoom Meeting
https://us04web.zoom.us/j/78809936599?pwd=I74E8SsH1EUU2YzY7ERwMUooQcoIUi.1
Meeting ID: 788 0993 6599 Passcode: Q9UXif


There will be a fall sports OHSAA parent meeting on Sunday July 31 at 7:00 pm. This will be a Zoom meeting and will be for parents of fall sport athletes who may have questions for our coaches. They will be on the zoom call. This will be a question and answer format for parents. Please visit the schools website, shadysideschools.com for a link to this meeting. For any questions please email the Athletic Director at JT:omeresa.net.

PAIGE GORBY BREAKS THE SCHOOL RECORD IN LONG JUMP! She jumper 17'4" to break the old record set in 2003!

Grace Green is continuing her athletics and academic careers at Bloomsburg University! Congrats and Good Luck Grace!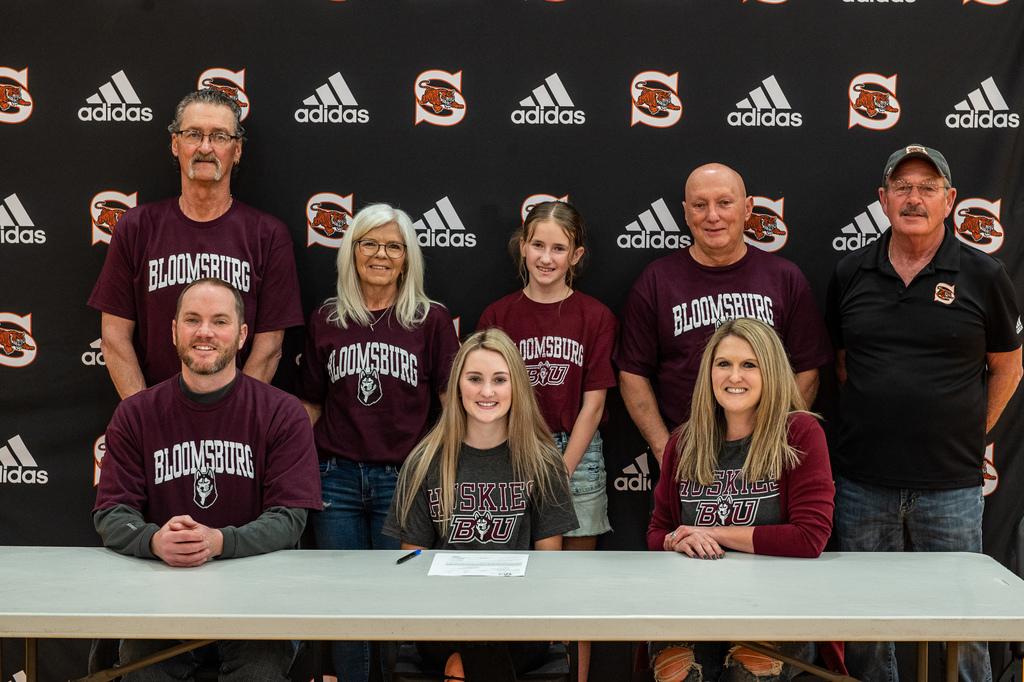 Congratulations to the members of the 3rd nine weeks Principal's List!

Below is a link to our zoom spring sports OHSAA parent meeting. This is an opportunity for all parents of spring sports to log on and ask any questions of our Head Coaches and/or Athletic Director in regards to Baseball, Softball, Boys Track, and Girls Track. All Head Coaches will be logged on. If there is any information you need or any questions you have, please log on. Meeting will start at 7:30 pm. Thank you Mr. John Triveri Athletic Director Shadyside High School _______________________________________________________________________________________________________________________________ John Triveri is inviting you to a scheduled Zoom meeting. Topic: Spring Sports OHSAA Parent Meeting Time: Feb 20, 2022 07:30 PM Eastern Time (US and Canada) Join Zoom Meeting
https://us02web.zoom.us/j/83014475418?pwd=Tk1kYU45NTV5MU9qSlZwc293dlh3dz09
Meeting ID: 830 1447 5418 Passcode: Tqy8Uu

Here is the information for this Saturday's OVAC Championship game!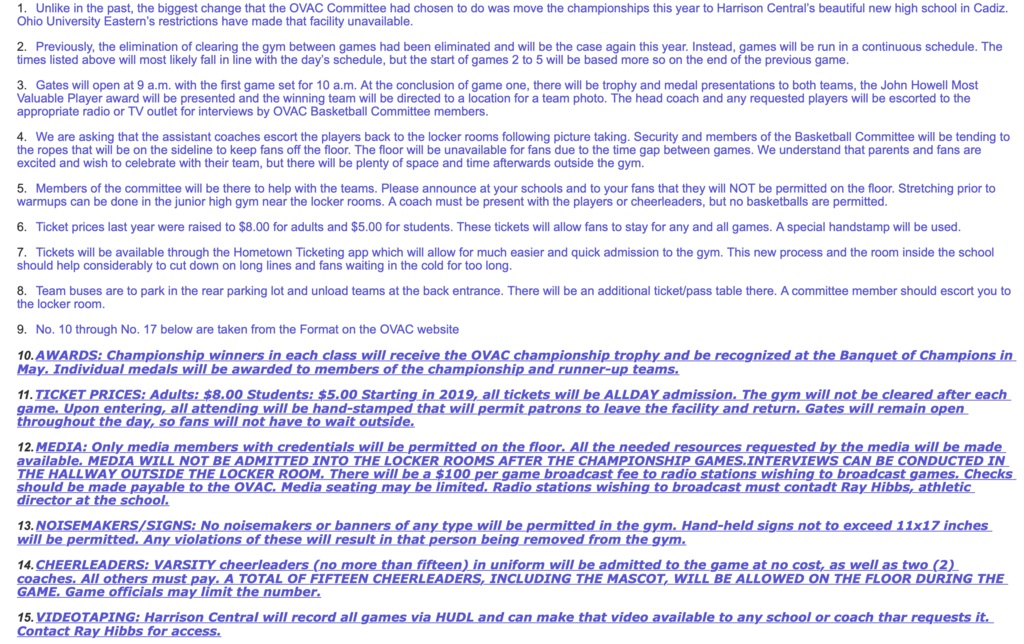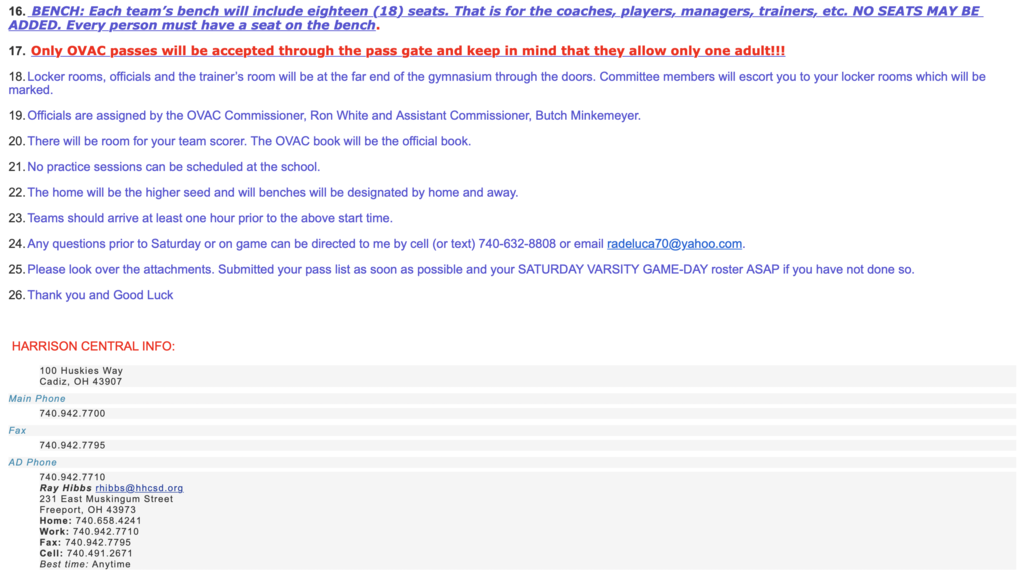 FROM THE OHSAA REGARDING POSTSEASON TICKET PURCHASING! This winter we will again be using digital ticketing through our partner HomeTown Ticketing for all the OHSAA tournaments(exception: wrestling state championship, information on that will be forthcoming). Listed below is detailed information for the sectional-district tournaments. Please review all information listed below · TICKETING o All OHSAA tournaments will be using digital ticketing (HomeTown Ticketing) for entry. o There will be NO cash accepted at the gate. § We recommend that you promote the events in which your school is participating and/or hosting to assist in communicating with fans to purchase early! § For schools that have concerns regarding students being able to purchase without a credit card, we encourage you to have a sign-up sheet, collect their cash payments and then make a bulk purchase of tickets electronically to have ready for pick up from you on game day. Please feel free to reach out to me directly for other ideas to help assist your school's needs. o There will be a presale (discounted) ticket available for the sectional though regional levels. o There will also be a game-day ticket available ($2.00 more than a presale ticket) for the sectional through regional levels available three (3) hours prior to the start of the event and until capacity has been reached or until the event has reached its halfway point. § With this, tickets CAN be purchased at the gate, they would simply have to purchase digitally on their smart device. o Tickets can be accessed 3-5 days before an event is to occur by going to
www.ohsaa.org/tickets
. § There are some instances in which tickets may not be posted until 24-48 hours before the event when we are waiting on results/locations/etc. Please do not contact us about an event not appearing until we are within a 24-hour window of the event. o In some instances (potentially swimming and bowling) we may run into capacity restrictions due to covid. With that, in those specific instances we will work with the teams/schools participating to ensure parents have tickets as permitted. o IF an event is postponed due to the weather or for another reason, ticket holders can keep their tickets as they will automatically be able to be used at the rescheduled event. o IF an event is CANCELLED due to covid, tickets will automatically be refunded – no action is needed to be taken by the purchaser.

ATTENTION ALL 8TH GRADE STUDENTS Your field trip permission slip for BCC is due by Thursday in order to be able to attend on Friday! A Parent or guardian may email Mr. Tredway, or return the slip to either Ms. Cline or Mr. Tredway by Thursday!

The Winter Formal originally scheduled for this Saturday, has now been moved to March 12th due to the possibility of severe winter weather.

Congratulations to Caroline Mercer! Our senior volleyball standout signed yesterday with Bethany College to continue her athletic and academic career!